Author: Babita kashyap
Publish Date: Wed, 13 May 2015 04:41 PM (IST)
Updated Date: Wed, 13 May 2015 04:49 PM (IST)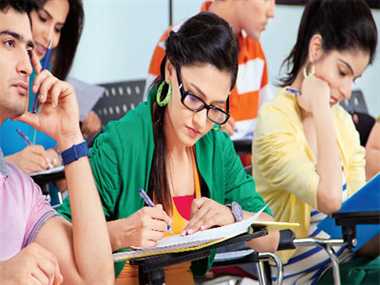 Exam : 28th June, 2015Central Board of Secondary Education on behalf of University Grant Commission has notified for National Eligibility Test (NET) to be conducted on 28th June 2015. The UGC-NET will be held for determining the eligibility of Indian nationals for the post of Assistant Professor or Junior Research
Exam : 28th June, 2015Central Board of Secondary Education on behalf of University Grant Commission has notified for National Eligibility Test (NET) to be conducted on 28th June 2015. The UGC-NET will be held for determining the eligibility of Indian nationals for the post of Assistant Professor or Junior Research Fellowship & for Assistant Professor both in Indian universities and colleges.The award of JRF and Assistant Professor or Assistant Professor will depend on the performance of the candidate in all the three papers of NET. However, the candidates qualifying exclusively for Assistant Professor will not be considered for award of JRF. Candidates appearing in NET should clearly specify in the prescribed Application Form whether they are applying for both JRF & Assistant Professor or both or only for Assistant professor.
Exam Scheme
There will be three separate sessions as under :
Paper I, Marks :100, No. of Questions : 60 out of which 50 question to be attempted, Duration : 1¼ Hours, Paper II, Marks :100, No. of Questions : 50 questions, all are compulsory, Duration :1¼ Hours , Paper III, Marks : 100, No. of Questions : 75 questions all are compulsory, Duration : 2½ Hours
Type
Paper-I shall be of general nature, intended to assess the teaching/research aptitude of the candidate. It will primarily be designed to test reasoning ability, comprehension, divergent thinking and general awareness of the candidate. There will be multiple choice questions of 2 marks each. In the event of the candidate attempted more than 50 questions, the first 50 questions attempted by the candidate would be evaluated. Paper-II shall consist of 50 objective type compulsory questions based on the subject selected by the candidate. Each question will carry 2 marks.
Paper-III will consist of questions from the subject selected by the candidate. Each question will carry 2 marks. All the questions of Paper–II and Paper –III will be compulsory, covering entire syllabus (including all electives, without options)
Clarity of Concept
While preparing for examination, the candidate should clear all the concepts from syllabus to be asked in UGC NET Exam 2015. Topic wise study of concept will make your preparation more worthy. Candidate should opt for good study material, which explain detailed concept with speedy tips and strategies.This will help the candidates in solving questions quickly and correctly.
Practice of Questions
All the candidates are required to do practice of questions from good question bank. More and more practice of questions will make you speedier in solving question in UGC NET Exam. For this, one require good question bank with more relevant questions to be asked in the forthcoming examinations.
Speed Test
Once the candidates are through with all the concepts being asked in UGC NET Exam 2015, they should move to speed test of each and every section. This will help them in judging their speed of solving questions in every section. By following above tips, students can score well in upcoming UGC NET Exam 2015 exam.­­
Edited By: Babita kashyap