बुक्स and music
Publish Date:Tue, 03 Feb 2015 12:36 PM (IST)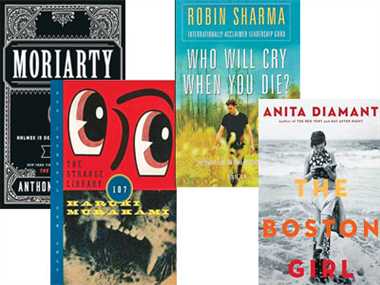 Moriarty
Author: Anthony Horowitz
Publisher: Harper
India, Price:` 396
Anthony Horowitz's Moriarty is a thrilling
mystery which explores what really happened when Sherlock Holmes and his arch nemesis Professor Moriarty tumbled to their doom at the Reichenbach Falls.
Like the first book 'The House of Silk', Moriarty is quite good and gives feeling like a real Sherlock story. It is fun to read, and has the atmosphere of a Conan Doyle story.
The book explores the ultimate Sherlock Holmes question. What really happened when Homes and Moriarty tumbled over Reichenbach Falls?
The cleverness behind the crimes and the detailed narrative spark
multiple echoes of Holmesian
elements while producing something new.
This clever thriller is sure to please Sherlock fans. A riveting and deeply atmospheric tale of murder and
menace, Moriarty breathes life into Holmes's dark and fascinating world.
The Strange Library
Author: Haruki Murakami
Publisher: Knopf
India, Price: ` 924
From internationally acclaimed author Haruki Murakam, The Strange Library is a fantastical illustrated short novel about a boy imprisoned in a nightmarish library.
A lonely boy, a mysterious girl, and a tormented sheep man plot their escape from the nightmarish library of internationally acclaimed,
best-selling Haruki Murakami's wild imagination.
The book takes the readers down the memory lane. The story begins with an unnamed boy submitting library books and looking for more reading materials before returning home to waiting mother and pet bird.
At the library, he is asked to enter the room number 107, located in the basement, where a gruff old man answers the door and asks him what he wants.
Unfortunately, he soon finds out that getting out of the library will not be as easy. Despite being a quick read, the book sticks with the
readers and flits around the
subconscious long after you close the cover for the last time.
Who Will Cry When You Die?
Author: Robin Sharma
Publisher: Jaico Publishing House
India, Price: ` 170
Who Will Cry When You Die? By Robin Sharma gives you 101 simple ways to live a
worry-free life. Some key sections include Discover Your Calling; You're Your Monkey Mind, Look for the Higher Meaning of Your Work, Learn to Be Silent, Have a Living Funeral, Listen to Music Daily and Become the CEO of Your Life.
Some of them are lessons we all know but don't practise, others are not so popular. The book is great to put things in perspective and get a lot more out of your life than what you are currently getting from it.
Hear it straight from the life
management expert who has been instrumental in the improvement of many lives all over the world.
The Boston Girl: A Novel
Author: Anita Diamant
Publisher: Scribner
India, Price: ` 626
The Boston Girl: A Novel by Anita Diamant is an unforgettable novel about family ties and values,
friendship and feminism told through the eyes of a young Jewish woman growing up in Boston in the early
twentieth century.
Addie Baum is The Boston Girl, born in 1900 to immigrant parents who were unprepared for and suspicious of America and its effect on their three daughters.
Addie's intelligence and curiosity take her to a world of movies, celebrity culture and new opportunities for women.
This book reads exactly like a
grandmother is telling her
granddaughter about her life and what shaped her into the woman.
Addie is a memorable character,
specific to her time, which proves the fact that the soul has truths to share across the years.
TOPFIVE
1. Uptown Funk!
- Mark Ronson
2. Thinking Out Loud
- Hozier
3. Lips Are Movin
- Meghan Trainor
4. I'm Not The Only One
- Sam Smith
5. Love Me Harder
- Ariana Grande
& The Weeknd
mustread
The Dramatic Decade: The Indira Gandhi Years
Author: Pranab Mukherjee
Publisher: Rupa Publications India
India, Price: ` 399
The Dramatic Decade by Pranab Mukherjee, focuses on one of the most fascinating periods in the life of this nation, the decade of the 1970s.
This was the decade when Pranab da committed himself to the role of a political activist. As one of the keen observers and participants in this
dramatic decade, Pranab Mukherjee's insights are invaluable. Indeed.
The sequence of events after Emergency and till Indira Gandhi-led Congress returning to power at the Centre has been dealt very well.
Especially the actions of senior party leaders to carve Congress
independent of Indira ji and their
failure is well captured.
One thing is clear from the
book - Pranab Da was with Indira ji throughout the good and bad days. That is commendable of this maverick politician for his loyalty and belief on Indira ji's capability as a leader of such a vast country like India.
Courtesy: www.post.jagran.com
Posted By: Babita kashyap
अब खबरों के साथ पायें जॉब अलर्ट, जोक्स, शायरी, रेडियो और अन्य सर्विस, डाउनलोड करें जागरण एप